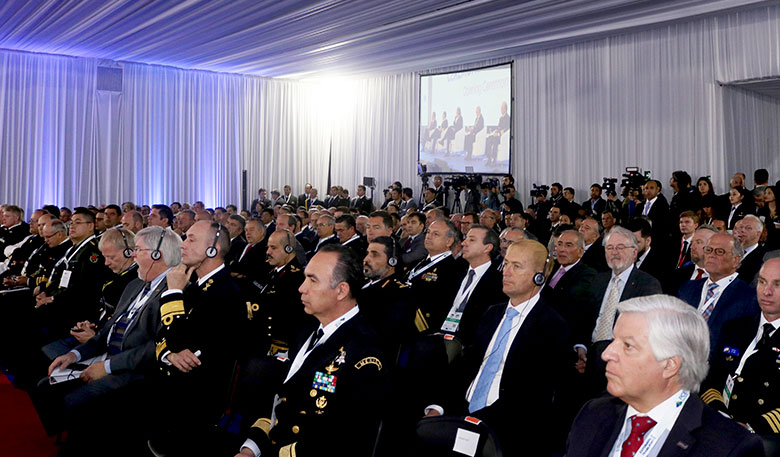 Transport defines schedule and topics for its next conference
Press Trans-Port 2023 – www.trans-port.cl

The conference of the new edition of Transport 2020: "The challenges for a Sustainable Maritime and Port Industry", has already in process the topics that will be approached at the event, on Thursday, December the 3rd, at the Plenary Hall of "Base Aérea de Concón" in the Valparaíso Region. The conference will be developed between 8:30 and 17:30 hrs. At the opening are expected to be present numerous government authorities, such as the Ministry of Transport, Gloria Hutt; the Secretary-General of the International Maritime Organization (IMO), Kitack Lim; and representatives from port companies, the Naval force of Chile and other nations. The wide conference schedule is composed by 6 seminars. The first panel is about "MARPOL 2020, its impact, future challenges and solutions for the maritime transport industry" and "The LNG as Maritime Fuel". The second panel will analyze the "National Maritime Authority's vision about the Consequences of the climate change in Maritime and Port Operations". Meanwhile, the third seminary is entitled "The future of the maritime transport in Latin-America and the 4.0. Logistic". Other topics to be discussed in the fourth panel will be: "The automatization processes and their challenges for the Maritime Industry in Latin-America". The fifth panel is entitled "Port Developments for Central Chile's Hinterland", where world trends, demands projection, new scenarios and foreign trade challenges will be analyzed. Additionally, in this topic, Port Vocation of Valparaiso and its expansion challenges and the Project of the New San Antonio Outer Harbor will be addressed. The panel that will close the seminars will be "Women and the Maritime and Port Industry; 2030 Agenda about the women's role in the industry towards to a sustainable development", in charge of WISTA (Women´s International Shipping & Trading Association). Transport is conceived as one of the main meeting points for the Maritime and Port Industry in Latin-America. Consequently, the conference has been developed based on topics about its evolution and developments in this important market.
More in Trans-Port 2023 – www.trans-port.cl
More
Information
Trans-port will have a professional team to hold successful yearly events.
International cooperation
Emily Aubert
Phone: +33 6 8600 4740 (Francia)
E-mail: eaubert@fisa.cl
Conference and activation coordinator
Andrés García
Phone: +56 2 25307222
E-mail: agarcia@fisa.cl
Register
Verónica Uribe
Phone: +56 2 25307218
E-mail: vuribe@fisa.cl
Press
Michelle Helguero
Phone: +56 2 25307200
E-mail: mhelguero@fisa.cl
Operations
Roberto Marzolo
Email: rmarzolo@fisa.cl
project approval (stands)
Marcos Rebolledo
Email: mrebolledo@fisa.cl
Exhibitor Service
Karoll Farfán
Email: kfarfan@fisa.cl
Valparaíso, Chile
VIII International Exhibition and Congress of the Maritime and Port Industry for Latin American