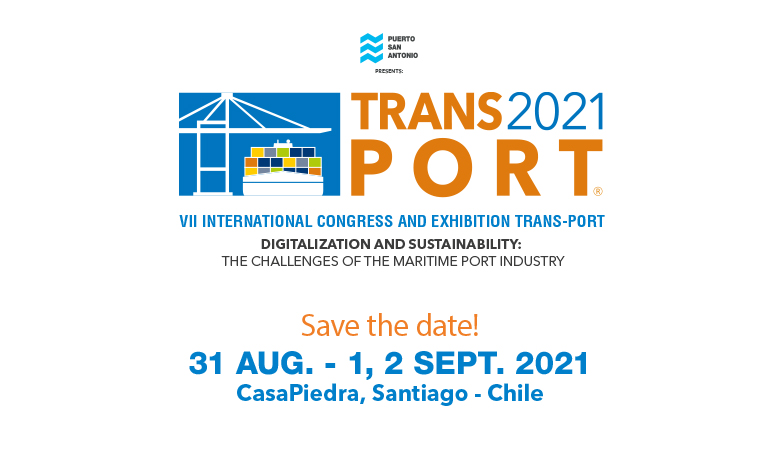 Trans-Port 2021 the meeting point of the port industry in Chile begins preparations for its 2021 version
Press Trans-Port 2023 – www.trans-port.cl

The Trans-Port team is working at full speed for its 2021 version, which will be held on August 31, September 1 and 2, 2021 in Casa Piedra, Santiago de Chile. The meeting, which has broad institutional support from the public and private sectors, seeks to bring together companies that will exhibit their innovations for the maritime port sector. It is also working on the preparations for what will be the VII International Congress for Latin America, which will bring together industry, the public and private sectors, logistics, communications, shipbuilding and repair, transportation, and security, among others. In parallel to the exhibition, the VII International Congress and Exhibition "Digitalization and Sustainability: The Challenges of the Maritime-Port Industry" will be held on August 31st and September 1st, where the main topics of discussion will be: Digitalization and Logistics Automation; Smart -Port – Autonomous Vessels; Cybersecurity; Community Builder; Application of IMO standards and results achieved to date, among other topics. The meeting will also present the progress of the most important projects being developed in Chile, such as the San Antonio Exterior Port project and the second terminal of the Port of Valparaiso, among others. According to Katherine Becker, Trans-Port Manager, the congress will have "a broad program with the challenges and solutions for the shipping industry and the future of shipping in Latin America and Logistics 4.0". Trans-Port 2021 Activities In order to exchange knowledge, experiences and technology transfer, exhibitors and visitors can participate in Business Roundtables, Technical Conferences and Workshops with the major representatives of the sector. Within the activities program there will also be a technical visit to a port terminal of Chile, where visitors and exhibitors can learn about the operation, logistics and new projects.
More in Trans-Port 2023 – www.trans-port.cl
More
Information
Trans-port will have a professional team to hold successful yearly events.
International cooperation
Emily Aubert
Phone: +33 6 8600 4740 (Francia)
E-mail: eaubert@fisa.cl
Conference and activation coordinator
Andrés García
Phone: +56 2 25307222
E-mail: agarcia@fisa.cl
Register
Verónica Uribe
Phone: +56 2 25307218
E-mail: vuribe@fisa.cl
Press
Michelle Helguero
Phone: +56 2 25307200
E-mail: mhelguero@fisa.cl
Operations
Roberto Marzolo
Email: rmarzolo@fisa.cl
project approval (stands)
Marcos Rebolledo
Email: mrebolledo@fisa.cl
Exhibitor Service
Karoll Farfán
Email: kfarfan@fisa.cl
Valparaíso, Chile
VIII International Exhibition and Congress of the Maritime and Port Industry for Latin American