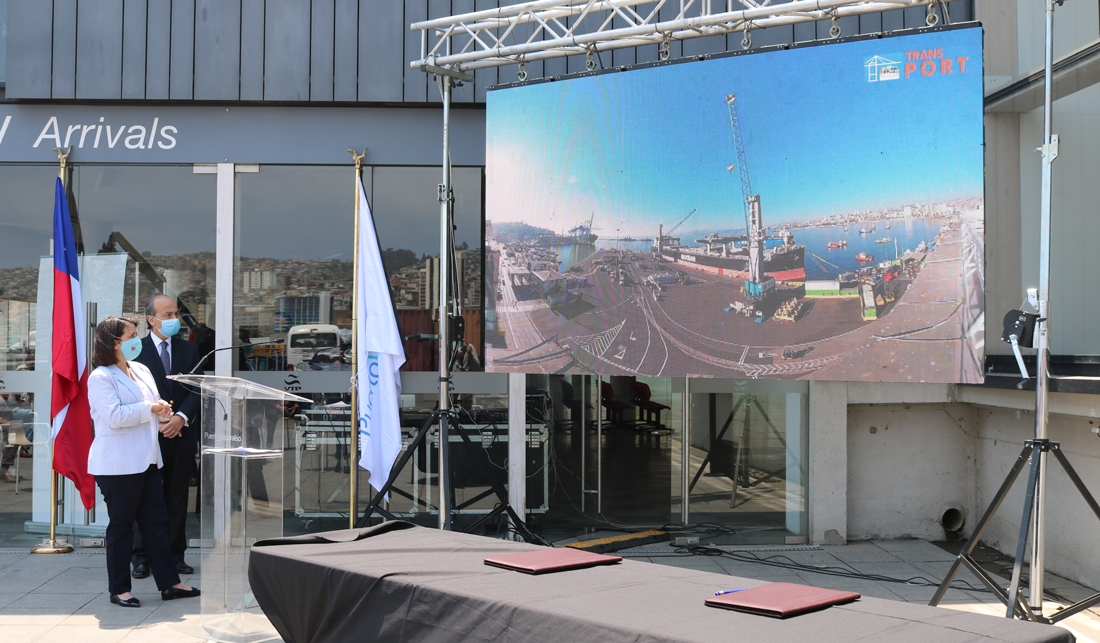 Trans-Port launches 2021 exhibition in Valparaiso
Press Trans-Port 2023 – www.trans-port.cl

In Valparaíso and with the presence of high authorities of the Region, the exhibition and congress of the maritime-port industry, Trans- Port, was launched and will take place between August 31 and September 2, 2021. The sector's fair for Latin America to be held in Santiago de Chile, aims to contribute to the development of the economy by bringing together entrepreneurs, suppliers, Chilean and Latin American authorities in an instance where knowledge, experiences and technologies will be exchanged. The launch ceremony was attended by the mayor of Valparaiso, Jorge Sharp, Senator Kenneth Pugh, the Director General of the Maritime Territory and Merchant Marine, Directemar, Vice Admiral Ignacio Mardones, the Seremi of Transport and Telecommunications, José Guzman, the general manager of EPV, Franco Gandolfo, the general manager of Fisa fromGL events Group, Francisco Sotomayor and other personalities from the region. In the opportunity, Fisa of the Group GL events General Manager, Francisco Sotomayor, together with Trans Port Manager, Katherine Becker and institutional relations of GL events Chile Manager, Rodrigo Lobo presented the details of what will be the VII version of Trans Port. Trans-Port Manager Katherine Becker highlighted that the exhibition "will bring together more than 50 exhibiting companies from 15 countries and aims to call around 1500 visitors. Likewise, she highlighted that the contents of the International Congress are already being prepared: "Digitalization and Sustainability: The Challenges of the Maritime-Port Industry". In the opportunity, Trans- Port Manager, Katherine Becker also said that 2021 exhibition version will be "in a hybrid format, a pioneer in Latin America with opportunities and experiences of direct contact, with the power of the face to face, and the potential of the virtual platform". Signing of agreement During the day in Valparaiso, a collaborative alliance was also signed between FISA, from GL events Group Chile and the Port of Valparaiso (EPV) so that in the future, events of great magnitude could be held in the region. On the occasion, FISA's general manager, Francisco Sotomayor, said that "this is a very good starting point to focus expectations for 2022, where we hope to return with events such as Expo Naval and Trans Port. EPV general manager, Franco Gandolfo, highlighted Valparaíso and VTP as a place for the realization of great events, fairs and seminars, which allow the promotion of tourism in the city throughout the year. And he said "the importance for the city of what is projected for the year 2022. It is very relevant to use this space, which belongs to Valparaíso and to their citizens, as a place for events".
More in Trans-Port 2023 – www.trans-port.cl
More
Information
Trans-port will have a professional team to hold successful yearly events.
International cooperation
Emily Aubert
Phone: +33 6 8600 4740 (Francia)
E-mail: eaubert@fisa.cl
Conference and activation coordinator
Andrés García
Phone: +56 2 25307222
E-mail: agarcia@fisa.cl
Register
Verónica Uribe
Phone: +56 2 25307218
E-mail: vuribe@fisa.cl
Press
Michelle Helguero
Phone: +56 2 25307200
E-mail: mhelguero@fisa.cl
Operations
Roberto Marzolo
Email: rmarzolo@fisa.cl
project approval (stands)
Marcos Rebolledo
Email: mrebolledo@fisa.cl
Exhibitor Service
Karoll Farfán
Email: kfarfan@fisa.cl
Valparaíso, Chile
VIII International Exhibition and Congress of the Maritime and Port Industry for Latin American